Welcome message
Mass Spectrometry Congress 2019 invites all the participants from all over the world to attend "3rd International Conference on Mass Spectrometry and Proteomics", on May 20-21, 2019 in Rome, Italy which includes prompt keynote presentations, oral talks, poster presentations, sponsors and exhibitions.
Mass Spectrometry Congress 2019 aims to bring together the prominent researchers, academic scientists, and research scholars to exchange and share their experiences on all aspects of Mass Spectrometry. It is also an interdisciplinary platform for researchers, practitioners and educators to present and discuss the most recent advances, trends, and concerns as well as practical challenges and solutions adopted in the fields of Mass Spectrometry and Proteomics.
About Conference
It is a great pleasure and an honour to extend our warm invitation to attend the " 3rd International Conference on Mass Spectrometry and Proteomics", on May 20-21 in Rome, Italy which includes prompt keynote presentations, oral talks, poster presentations and exhibitions. This conference brings together individuals who are interested in fields of mass spectrometry, proteomics, chromatography and analytical chemistry and approaching towards the conference gives best platform to explore the ideas and issues concerned to relevant topic and generate solutions.
This unites all the participants from across the globe. It is a platform to share their experience and their ideas for research work results to implement in further research work. As scientists, and other researchers all fascinated by the study of the global use of mass spectrometry. We are particularly concerned about understanding the uses of mass spectrometry in the field of chemistry and analytical science. We welcome you to our site to join with us. At this site, you can learn about membership in the society, the society journal, our newsletter and conferences.


Why to attend???

· Meet experts and influencers face to face
· To learn new things in your field

· Conferences Build Your Knowledge Base

· Encounter new vendors and suppliers

· Attending a conference allows you to grow and challenge yourself

· Attending conferences grow your professional network

· Position your company as a champion

· Network with leaders and influencers from the scientific, academic and R&D communities

Target Audience:
· Directors, Presidents,
· CEO's from companies,

· Industrial Experts,

· Business Intelligence Experts,

· Scientists,

· Research Associates,

· Vice Presidents,

· Manufacturers,

· Brand Marketers,

· Advertising Agency Executives,

· Professors and Students from Academia.

Speaker benefits at Mass Spectrometry Congress 2019:

· Opportunity to Chair/Co-chair a session of your interest
· Speaker and Abstract pages created in Google on your name would get worldwide acknowledgement

· Opportunity to get sponsorship for your projects

· Opportunity to moderate the conference

· Career Guidance Workshops to the Graduates, Doctorates and Post-Doctoral Fellows

· Accepted Abstracts will be published in respective supporting journals, and will be labelled with a DOI

· Speaker will be felicitated with Certificate

· Best Poster Competitions and Young Researcher Competitions
· B2B meetings

· All attendees can avail 21 CPD Credits (Continuing Professional Development)

· Certificate Accreditation by the International Organizing Committee (IOCM)

· Abstracts will be published in conference souvenir & international journals

Registration Benefits:

Only Registration Includes:

Access to All Sessions

CPD accredited

Coffee break during the conference

2 days breakfast during the conference

2 days Lunch during the conference

Handbook & Conference Kit

Lunch during the conference

Certificate of Presentation

B2B meetings
Package A
Accommodation for 2 nights: May 19&20, 2019

Above all only registration benefits

Free WiFi
Package B
Accommodation for 3 nights: May 19,20& 21, 2019

Above all only registration benefits

Free WiFi
Important Dates
Conference Dates:

May 20-21,2019
Normal Registration:
20
th
January 2019
Abstract Submission last date:
25
th
April 2019
Abstract Acceptance Notification:

Within 2 Working days from the date of submission
Avail Flat 30% Discount on Group Registrations
Sessions/ Tracks
Track 1: Fundamentals in Mass Spectrometry
As per Fundamentals of Mass Spectrometry, Mass spectrometry is an analytical tool used for measuring the molecular mass of a sample. Ionization is the atom or molecule is ionized by knocking one or more electrons off to give a positive ion. This is true even for things which you would normally expect to form negative ions or never form ions at all. Most mass spectrometers work with positive ions. New Ion activation methods for tandem mass spectrometry; this is followed by tandem mass spectrometry, which implies that the activation of ions is distinct from the laboratory research, and that the precursor and product ions are both characterized independently by their mass/charge ratios. Here are the basic principles involved in Mass Spectrometry
• Ionization
• Separation and Mass Analysis
• Detection and Generation of Mass Spectrum
Track 2: Mass Spectrometry in Pharmaceutical Analysis
Mass spectrometry is one of the important tools in the analysis of pharmaceuticals. It is a technique used to measure the characteristic of a sample, likely to be availability of new instrumentations and ionization techniques which used to solve bio analytical problems. It consists of both qualitative and quantitative aspects. And it is associated with drug discovery and drug development process.
• Drug Metabolism
• Gas Chromatography-Mass Spectrometry
Track 3: Applications of Mass Spectrometry
Application of Mass Spectrometry includes the ion and weights separation. The samples are usually introduced through a heated batch inlet, heated direct insertion probe, or a gas chromatograph. Ionization mass spectrometry (ESI-MS) which has become an increasingly important technique in the clinical laboratory for structural study or quantitative measurement of metabolites in a complex biological sample. Mass spectrometry is an analytical methods with high specificity and a growing presence in laboratory medicine. Various types of mass spectrometers are being used in an increasing number of clinical laboratories around the world, and, as a result, significant improvements in assay performance are occurring rapidly in areas such as toxicology, endocrinology, and biochemical markers. This review serves as a basic introduction to mass spectrometry, its uses, and associated challenges in the clinical laboratory and ends with a brief discussion of newer methods with the greatest potential for Clinical and Diagnostic Research. This technique is been widely used in many processes
• Liquid chromatography
• Tandem mass spectrometry
• Electrospray ionization
• Ionization Methods
Track 4: New Approaches in Mass Spectrometry
The search of metabolites which are present in biological samples and the comparison between different samples allow the construction of certain biochemical patterns. The mass spectrometry (MS) methodology applied to the analysis of biological samples makes it possible for the identification of many metabolites. The 100 chromatograms were concatenated in a vector. Identification of unknown peaks in gas chromatography (GC/MS)-based discovery metabolomics is challenging, and remains necessary to permit discovery of novel or unexpected metabolites that may allergic diseases processes and/or further our understanding of how genotypes relate to phenotypes. Here, we introduce two new technologies and an advances in pharmaceutical analytical methods that can facilitate the identification of unknown peaks. First, we report on a GC/Quadrupole-Orbitrap mass spectrometer that provides high mass accuracy, high resolution, and high sensitivity analyte detection.
• Emerging separation technologies
• Hybrid Mass Spectrometry
• Approaches in glycoproteins and glycans
• Atom probe tomography
• Structural proteomics and genomics
Track 5: Spectroscopy
Spectroscopy is the study of the interactions between matter and electromagnetic radiation.Historically, spectroscopy originated through the study of visible light dispersed according to its wavelength, by a prism. Later the concept was expanded greatly to include any interaction with radiative energy as a function of its wavelength or frequency. Spectroscopic data is often represented by an emission spectrum, a plot of the response of interest as a function of wavelength or frequency.
• Mass Spectroscopy
• UV and IR Spectroscopy
• X-ray Spectrometry
• Ultraviolet-visible Spectroscopy
• Ion Spectroscopy
• Nuclear Magnetic Resonance Spectroscopy
• Infrared Spectroscopy
Track 6: Ionization Techniques
There are many types of Ionization methods are used in Mass Spectrometry methods. The classic methods that most chemists are familiar with are Electron Impact (EI) and Fast Atom Bombardment (FAB). These techniques are not used much with modern Mass Spectrometry except EI for environmental work using GC-MS. Mass spectrometers measure the mass-to-charge (m/z) ratios of gas phase ions. Creating gas phase ions is the role of the Ionization Method.
• Electrospray ionization
• Gas Phase ionisation
• Atmospheric pressure chemical ionization
• Matrix assisted laser desorption ionization
• Field desorption and ionization
• Particle Bombardment
Track 7: Analytical Chemistry
Analytical chemistry studies and uses instruments and methods used to separate, identify, and quantify matter. In practice separation, identification or quantification may constitute the entire analysis or be combined with another method. Modern Analytical Chemistry is dominated by instrumental analysis. Many analytical chemists focus on a single type of instrument. Academics tend to either focus on new applications and discoveries or on new methods of analysis. Spectroscopy based on the differential interaction of the analyte along with electromagnetic radiation.Chromatography, in which the analyte is separated from the rest of the sample so that it may be measured without interference from other compounds.
• Qualitative analysis
• Gravimetric analysis
• Microscopy
Track 8: Chromatographic Techniques
There are several special techniques in chromatography that addresses key areas of distillation, physical sorption, absorption and heat exchange, and membranes. The other techniques are by physical state of mobile phase which include gas chromatography and liquid chromatography. Another technique is by separation mechanism which includes ion exchange chromatography, expanded bed adsorption chromatographic, and size-exclusion chromatography. This session further discusses in detail about the techniques of chromatography.
• Ion-exchange chromatography
• Size-exclusion chromatography
• Bioaffinity chromatography
• Aqueous normal-phase chromatography
• Thin Layer chromatography
• Reversed-phase chromatography (RPC)
Track 9: High Performance Liquid Chromatography (HPLC)
High-performance liquid chromatography (HPLC) is a separation technique that can be used for the analysis of organic molecules and ions. HPLC is based on mechanisms of adsorption, partition and ion exchange, depending on the type of stationary phase used. HPLC involves a solid stationary phase, normally packed inside a stainless-steel column, and a liquid mobile phase. Separation of the components of a solution results from the difference in the relative distribution ratios of the solutes between the two phases. HPLC can be used to assess the purity and/or determine the content of many pharmaceutical bioprocessing substances. It can also be used to determine enantiomeric composition, using suitably modified mobile phases or chiral stationary phases. It is a very powerful technique that often requires non-polar solvents. Due to safety and environmental concerns this mode is used mostly as an analytical technique and not for process application
• Ultra high performance liquid chromatography
• Fast protein liquid chromatography
• HPLC-mass spectrometry
• Characterization of HPLC stationary phases
Track 10: Mass Spectrometry of Biomolecules
Mass spectrometers used for the analysis of macromolecules from biological sources, such as proteins, peptides, DNA or RNA oligomers, have experienced tremendous improvements in recent years. Mass spectrometry is fast becoming an indispensable field for analyzing biomolecules. Till the1970s, the only analytical techniques which provided similar information were electrophoretic, chromatographic or ultracentrifugation methods. The results were not absolute as they were based on characteristics other than the molecular weight.Thus the only possibility of knowing the exact molecular weight of a macromolecule remained its calculation based on its chemical structure.
• Electrospray ionization
• Matrix assisted Laser Desorption Ionization
• Quadrupole Ion Trap Mass Spectrometer
• Tandem mass spectrometry
• Time-of-flight Mass Spectrometer
Track 11: Mass Spectrometry In forensic Science
Mass spectrometry is used commonly in forensic laboratories for the confirmation of drugs and identification of ignitable liquids. Mass spectroscopy, also called mass spectrometry, is a scientific method that analyzes a sample of material to determine its molecular makeup. By ionizing a sample, a scientist can cause it to separate into its individual ions. Mass spectrometry has become a valuable tool in forensic science, where it can provide clues from the barest traces left by a suspect. Mass spectrometry is also useful in analyzing trace evidence.
• Toxicology Analysis
• Trace Evidence
• Arson Investigations
• Explosive Residue
Track 12: Mass Spectrometry in Drug Discovery and Development
Mass Spectrometry are extensively used in drug discovery and development, including drug metabolism research. Mass Spectrometry plays in the discovery and development of new therapeutics by both the Pharmaceutical and the Biotechnology Industries. Mass Spectrometry is an essential tool in determining the molecular mass information of interest by ionizing chemical compounds to generate charged molecules or molecule fragments. The most common forms of ionization in small molecule research are electron ionization (EI), atmospheric pressure chemical ionization (APCI), and electrospray ionization (ESI). Mass spectrometry is widely used for analysis of impurities and degradation products due to its high sensitivity and selectivity.
• Quantitative Analysis by Mass Spectrometry
• Mass Spectrometry in Small Molecule Drug Development
• Future Perspectives in Drug Development
Track 13: Future Developments in Mass Spectrometry
The practice of Mass Spectrometry is one of the methods of Analytical Chemistry that has undergone the greatest change during the past 25 years. Mass spectrometry is the most significant and far reaching of these developments, allowing the generation of data in the Medical Sciences that brings new insights into critical questions. The role of mass spectrometry in genomics, proteomics, Metabolomics, Lipidomics and Future prospects for the Mass Spectrometry industry and Advances in mass spectrometry instrumentation and method are the Future developments in Mass Spectrometry.
• Mass analysis
• Mass spectrometry
• Non-volatile
Track 14 : Protein Mass Spectrometry
Protein mass spectrometry refers to the uses of mass spectrometry to the study of proteins. Mass spectrometry is an important method for the accurate mass determination and characterization of proteins, and a variety of methods and instrumentations have been developed for its many uses. Its applications include the identification of proteins and their post-translational modifications, the elucidation of protein complexes, their subunits and functional interactions, as well as the global measurement of proteins in proteomics. It can also be used to localize proteins to the various organelles, and determine the interactions between different proteins as well as with membrane lipids. The two primary methods used for the ionization of protein in mass spectrometry are electrospray ionization (ESI) and matrix-assisted laser desorption/ionization.
• Deuterium exchange Mass Spectrometry
• Protein identification
• Protein quantitation
• Electrospray ionization
• Protein folding by Mass spectrometry
Track 15: Proteomics
Proteomics is the large-scale study of proteins and proteomes.Proteins are vital parts of functional living organisms, Proteomics refers to the large-scale experimental protein purification and mass spectrometry analysis.Proteomic technologies is use for identification and quantification of overall proteins present content of a cell, tissue or an organism. Mass spectrometry with LC–MS-MS and MALDI-TOF/TOF being widely used equipment is the central among current proteomics.Proteomics is also useful in disease diagnosis, gene function, chromatography ,electrophoresis, Quantitative techniques, crystallography, Bioinformatics analysis
• Proteomics in Food Science
• Platelet Proteomics
• Proteomic Applications in Cancer Detection and Discovery
• Proteomics in Nephrology
Track 16: Mass Spectrometry in Proteome Research
Mass spectrometry (MS) - based proteomics allows the sensitive and accurate quantification of almost complete proteomes of complex biological fluids and tissues. At the moment, however, the routinely usage of MS-based proteomics is prevented and complicated by the very complex work flow comprising sample preparation, chromatography, MS measurement followed by data processing and evaluation. The new technologies, products and assays developed by Precision Proteomics could help enabling and establishing mass spectrometry (MS) - based proteomics in academic and pharmaceutical research as well as in clinical diagnostics.
• Mass spectrometry coupled with Protein and peptide fraction
• Informatics for Peptidome Discovery
• Proteogenomics
• Metabolomics/Lipidomics: new MS technologies
Track 17 : Clinical Proteomics
Clinical Proteomics encompasses all aspects of translational proteomics. Special emphasis will be placed on the application of proteomic technology to all aspects of clinical research and molecular medicine. The journal is committed to rapid scientific review and timely publication of submitted manuscripts. A key feature of Clinical Proteomics is its commitment to rapid scientific review and timely publication of submitted manuscripts. This is achieved receiving and processing submissions online. As molecular medicine moves beyond genomics to proteomics, the goal becomes the characterization of the cellular circuitry and the understanding of the impact of disease and therapy on cellular networks.

• Biomarkers
• Applications of clinical proteomics
Track 18: NMR Spectroscopy
Nuclear Magnetic Resonance (NMR) is a spectroscopy method which depends on the absorption of electromagnetic radiation by nuclei of the molecules. Proton Nuclear magnetic resonance spectroscopy is a standout amongst the most instruments for clarifying the quantity of hydrogen or proton in the compound. It is utilized to contemplate a wide assortment of nuclei. The principle behind NMR is that the nuclei have spin and they are electrically charged. In the event that an external attractive field is connected, an energy exchange is conceivable between the base energy to a higher energy level (for the most part a single energy hole). The energy exchange happens at a wavelength that compares to radio frequencies and when the turn comes back to its base level, energy is transmitted at a similar recurrence. The standard that matches this transfer is estimated from multiple ways of view and prepared to yield an NMR range for the nucleus concerned.
• Nuclear Spin
• Detecting the Signal: Fourier Transform
• Signal Splitting: Spin-Spin Coupling
• Two- Dimensional (2D) NMR Techniques
• Proton NMR Spectroscopy
• Carbon NMR Spectroscopy
Track 19: Gas Chromatography - Mass Spectrometry
Gas chromatography (GC) uses a gaseous mobile phase such as helium or hydrogen to push molecules through a column that serves as the stationary phase. The most common type of MassSpectrometer (MS) associated with a Gas chromatography (GC) is the quadrupole Mass Spectrometer. GC is predominantly limited to volatile, heat-stable compounds lacking polar functional groups; however, chemical modification with derivatizing agents allows for functional groups to be masked, producing less polar, GC-compatible compounds. Gas Chromotography is the method most often used for comprehensive drug screening in the clinical laboratory using a combination of GC and Mass Spectrometry (GC-MS).
• Electron ionization
• Cold electron ionization
• Chemical ionization
Track 20 : Spectroscopy Tools in Nano Technology
The most intriguing part for researchers is the complex properties which are shown by nanoparticles and nanostructures. Microscopic methods such as SPM and electron microscopes are available to observe nanomaterials at the nanoscale level but the chemical, structural and optical properties are not possible by these instruments. This is where spectroscopic characterization techniques are used to investigate the properties of the
nanomaterials.

• Ultraviolet-Visible spectroscopy
• Raman spectroscopy
• Furrier transformed infrared spectroscopy
• Dynamic light scattering
• X-Ray diffraction
Track 21 : Mass spectrometry Imaging
Mass spectrometry imaging is a technique used in mass spectrometry to visualize the spatial distribution of chemical compositions e.g. compounds, biomarker, metabolites, peptides or proteins by their molecular masses. Although widely used traditional methodologies like radiochemistry and immunohistochemistry achieve the same goal as MSI, they are limited in their abilities to analyse multiple samples at once, and can prove to be lacking if researchers do not have prior knowledge of the samples being studied.
• Single-cell MALDI mass spectrometry imaging
• Biomolecular imaging mass spectrometry
• Quantitative imaging mass spectrometry
• Secondary ion mass spectrometry (SIMS) Imaging
Market Analysis
Mass Spectrometry is an analytical technique used to determine the molecular weight of compounds by separating molecular ions based on their mass and charge. Continuous technological advancement has led to the growth in the application of Mass Spectrometry. Mass Spectrometry has a myriad of applications in biology, physics, chemistry, clinical medicine and space exploration. The growing array of applications of Mass Spectrometry is driving the global Mass Spectrometry market. The global Mass Spectrometry market based on application has been segmented into pharmaceuticals, biotechnology, industrial chemistry, environmental testing, food & beverage testing and others. Pharmaceutical application segment dominated the global Mass Spectrometry market due to factors such as rising usage of Mass Spectrometry in drug discovery, drug-drug interaction and other pharmaceutical and clinical medicine applications. Biotechnology and food & beverage testing are expected to be the fastest growing segment due to rising usage of Mass Spectrometry techniques in rapid microbiology testing of food and beverages and other industrial microbiology testing which would further fuel the growth of Mass Spectrometry market during the forecast period. On the basis of platforms, the Mass Spectrometry market is segmented into Hybrid Mass Spectrometry and Single Mass Spectrometry. The Hybrid Mass Spectrometry segment is further divided into triple quadrupole, quadrupole TOF, and Fourier Transform Mass Spectrometry (FTMS). While single Mass Spectrometry is further sub-segmented into Time-of-Flight (TOF) MS, Orbitrap MS and Quadrupole The hybrid Mass Spectrometry segment held the largest share in the global Mass Spectrometry market by platform. The demand for Mass Spectroscopy systems is rising due to the expanding applications in life sciences and pharmaceutical industries as wells as the substantial demand from the chemical and petrochemical industries. Moreover, the advent of these systems in tandem with chromatography techniques such as Gas Chromatography/Mass Spectrometry (GC/MS), and Liquid Chromatography/Mass Spectrometry (LC/MS) has resulted in their widespread adoption.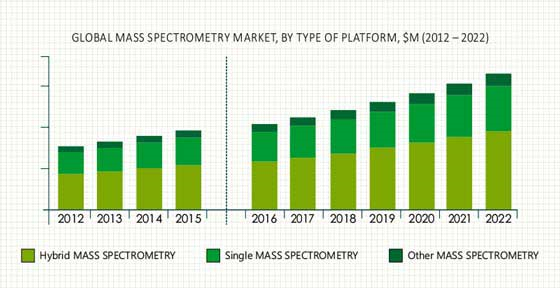 According to the latest reports "Mass Spectrometry Market – (Platform Type – Hybrid Mass Spectrometry: Triple Quadrupole Mass Spectrometry; Single Mass Spectrometry: Time-of-Flight (TOF) Mass Spectrometry, Orbitrap Mass Spectrometry, Quadrupole; Others ; Application Type – Pharmaceutical, Biotechnology, Industry Chemistry, Environmental Testing, Food & Beverages Testing and Others); Market Growth, Future Prospects and Competitive Analysis, 2017-2025" the market was valued at USD 5.3 Bn in 2015, and is expected to reach USD 10.5 Bn by 2025, expanding at a CAGR of 7.7% from 2017 to 2025.
In terms of geographic, North America rules the International Mass Spectrometry business. This is due to increased government expenditure in biotechnology and biomedical areas. In addition, increased research in the field of proteomics is also supporting in the growth of Mass Spectrometry in the region. The United States represents the massive business for Mass Spectrometry procedures followed by Canada in North America. In Europe, France, Germany, Italy, Spain and the U.K. holds major share of Mass Spectrometry market. However, Asia is expected to show huge growth rates in the next five years in worldwide Mass Spectrometry business. This is due to many companies constructing their manufacturing and research facilities in the region. In addition, increasing number of meetings and exhibitions by manufacturing companies to promote Mass Spectrometry technology is also contributing in the growth of mass spectrometry business in the region. India japan and china are expected to be the fastest growing Mass Spectrometry markets in Asia. The key companies operating in the global Mass Spectrometry market include Danaher Corporation, Shimadzu Corporation, Waters Corporation, Thermo Fisher Scientific Inc., Bruker Corporation, Endress+Hauser Inc, LECO Corporation, Agilent Technologies Inc., PerkinElmer Inc., Dani Instruments S.p.A, Protea Biosciences Group Inc, Microsaic Systems PLC, Jeol USA Inc., and Elico Ltd. The Global Mass Spectrometry market witnesses high competitive intensity as there are many big and small firms with similar product offerings. These companies adopt various strategies (collaborations, acquisitions, new product launches and geographic expansions) to increase their market shares and to establish a strong foothold in the global market.